Photo props are not just for professional photographers, but for Mums, Dads, aunties, uncles and grandparents too! With infinite ways of using photo props, not to mention the types of props you could use, taking photos has never been this fun.
Like with most things, getting started is the hardest part. We've put together a list of what we think are the best six ideas for photography props. Some are cute, others are quirky and of course some are just for the bedroom….
6 Ideas for Photo Props for Kids & Adults
We love being creative and colourful; you only need to look at our tutus to see that! Keeping that in mind, you can expect to find some brilliant photo props ideas here:
1. Picnic baskets – you're planning a photoshoot in the park or backyard, so take a picnic basket along with you. An empty basket can be held by the kids, or it could be placed onto a rug on which everyone sits or lies down upon.
2. Food – there's a high probability you've already used food as a photo prop before – think birthday cake! Get creative with your positioning around the food. Your photo subject don't need to be behind it. They could be eating it or beside it.
3. Tutus – tutus make great photo props for newborn photos, as well as 1st birthday or smash the cake events. Our maternity tutus are always popular and highlight your baby bump perfectly!
4. Boudoir – fancy a romantic tutu photo shoot? Or something even a bit racier with tutu tulle suggestively draped over you? We can help you out here with a custom piece of boudoir wear – just ask!
5. Balloons – we love the new biodegradable balloons which come in a range of bright colours! Whether your child (or you) holds a bunch of balloons or pats a single balloon into the air, they add a great level of interest to a photo.
6. Bubbles – there are two reasons why professional photographers use bubbles as props. Firstly, they get kids to look and smile when they blow the bubbles. Secondly, the bubbles themselves look amazing in photos!
Feeling inspired with your photo taking? We sure are! We'd love to see the photos you manage to snap which use any of our products as photo props, so please send them in to us!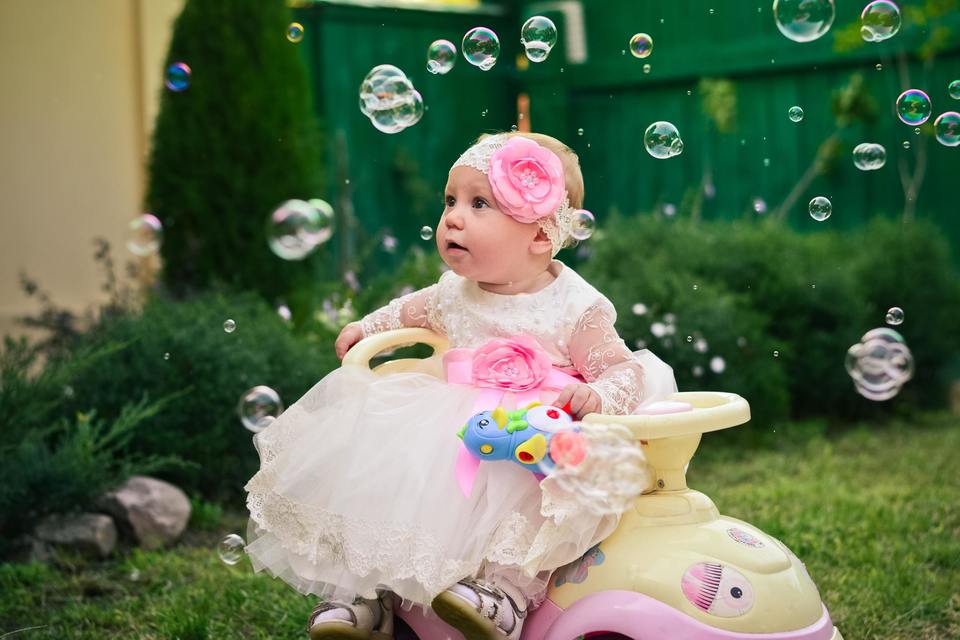 Posted: Monday 19 October 2020