NZ's Cutest 1st Birthday Tutu Outfit
It's no secret that we love to custom make tutus. In fact, we'd even go as far as saying they are the best in the country! So why not combine a Mayhem tutu with a customised onesie or t-shirt for your 1st birthday girl?
With an enormous colour range of tulle to choose from, we can make a tutu to suit any theme. Pretty in pink, vibrant in violet or innocent in white, we're here to help! We'll also custom design a onesie or t-shirt to match perfectly or you can tell us what you'd like printed onto it. It's that easy!
Tips on Planning a Magical 1st Birthday Party
1st birthdays are such a milestone in our children's lives. Not only have they grown and learning more each day, but you as a parent have survived your first year as a parent too! It's time to celebrate and what better way than dressing your daughter in her 1st birthday tutu outfit and throwing her an awesome party!
Here are some helpful tips to help you plan that all important 1st birthday party:
• Stick to VIPs only – babies are easily tired. Invite only a few guests to avoid your child becoming overwhelmed and quickly tired.
• Keep to the clock – 60-90 minutes is a good time for a party. It's long enough to have fun, but short enough so babies are not too tired.
• Create a play place – some little guests may be mobile, others won't be yet. Try to create a secure area where they can play safely and fill with age appropriate toys.
• Hire a babysitter – ask a babysitter or friend to help you watch the guests, leaving you able to mingle and host the party with ease.
• Don't forget the cake! – a cake smash is fun for the birthday girl and even guests to join in with. Perhaps order your daughter a larger version and give each of the young guests a smaller cupcake size version?
Order Your First Birthday Outfit Today!
In years to come you are going to want some amazing photos to look back on and remember this great day! Order her first birthday tutu and onesie today. We're certain you'll both want one each year as she grows up – and you can order matching adult tutus too! Now how cute would that be?!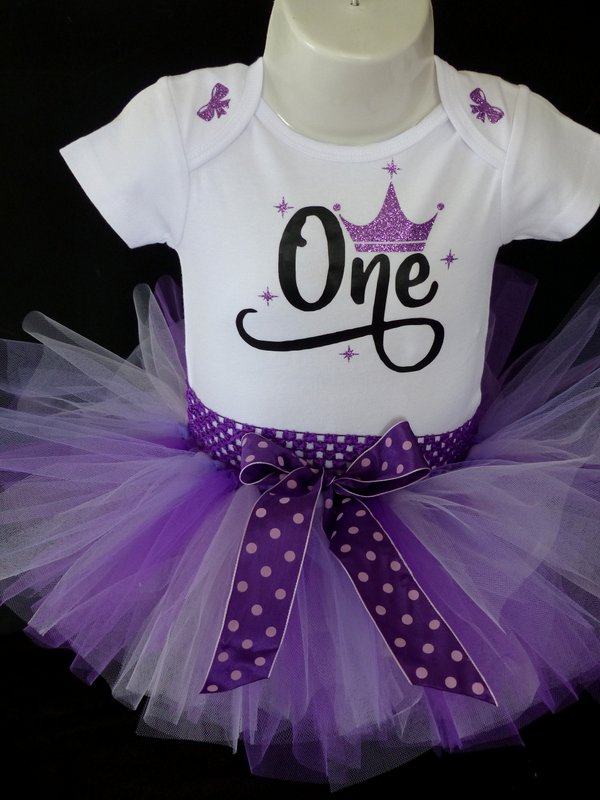 Posted: Wednesday 22 November 2017