Home of NZ's Favourite Hand Tied Tutus
Tutu Skirts, Princess Tutus & Tutu Dresses for All Ages
Welcome to Mayhem Creations, New Zealand's top hand-tied tutu shop! From tutu skirts for a first birthday party, a maternity tutu for a photoshoot, or a child's tutu dress as a Christmas present, we're here to help! Shop from our pre-selected colour combinations, or order a custom design in your chosen colours at no extra cost.

Only available for purchase through our online tutu shop, all our tutu skirts and dresses are of an exceptional quality and perfect for birthday parties, dress-ups and flower girls, or as a gift for a special party princess.

Buy Hand Made Tutu Skirts, Dresses & Accessories
Every one at some stage dreams of being a princess. Or a fairy. Or a ballerina. Help bring their dreams to reality by giving them a hand tied child's tutu from Mayhem Creations! We're based in Wellington and are happy to have tutus collected from us here in the suburb of Karori. Or for delivery to your door, postage nation wide is just $7.50 ($13 if you are rural).
Our online tutu store has a large variety of pre-designed tutu skirt colour combinations, but we also custom make tutus upon request for no extra charge. If you have an upcoming wedding and need a tutu skirt for your flower girl in just the right colour, we can help. Or if your little princess has a favourite colour combination, we can use it to create a special and unique tutu just for them!
Needing Some Tutu Inspiration?
Take a browse through our tutu photo gallery to see examples of tutus we have created and get inspired for your next tutu skirt or dress. With matching accessories including unicorn headbands, cat ear hair clips, jewellery, cake tutus, table tutus and tutu dress ups, we really are NZ's favourite tutu designer!
Monthly Voucher Winner
We really appreciate getting your photos back of your little ones wearing our tutus.
Each month we pick one lucky person to receive a $10 voucher.
Click here to get in touch with us if you would like to share your photos.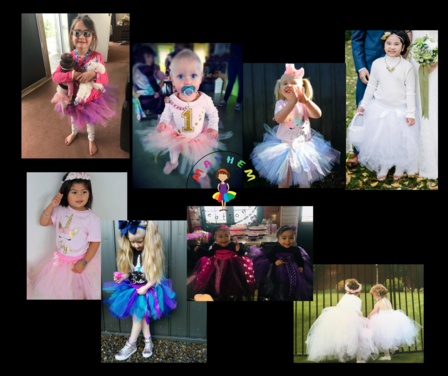 Here are some comments from our customers -
Thank you Nicola December 2 2018
"I love the little dolls tutu I received from Mayhem Creations! The tutu is gorgeous, communication great and delivery was fast. Thanks so much!"
Thank you Priscilla October 1 2018
"Great communication, fast made and delivery. Very friendly and loved the final product, colours are vibrant and it looks exactly like what is pictured, can't wait to give to my niece at Christmas time."
Thank you Alicia July 19 2018
"I just ordered a beautiful pink tutu as a gift for a friends 5 year old daughter. It is perfect, even better than it looks in the photos. The tutu arrived very quickly after ordering. Would highly recommend these tutus and I will be buying again."
Thank you Aamyrra March 6
"The quality tutus and service from this lady is amazing! We had a misunderstanding on the tutu dress and she done up a whole new one for me within a couple days and let me trade. Thanks again Marian for My girls princess tutu dress and for giving me exactly what I wanted. I cant wait to see her in it ðŸ˜Â I couldnt recommend you enough 😊 thank you!"
For more reviews check out our
f
acebook page
where we have over 100 reviews.