It's now time to look for first birthday cake ideas; where did those 12 months go? A 1st birthday is such a special event and a huge milestone for your child, so why not celebrate it! You'll be wanting a cake which not only tastes great but looks fantastic too. We've put together some super cute first birthday cake ideas, that you'll have trouble just choosing one!
Adorably Cute First Birthday Cake Ideas
We love to celebrate, and the first birthday of a child is a fabulous reason to party! You may have seen some amazing birthday cake ideas on our Pinterest board, or possibly in the old Women's Weekly Birthday Cake book (remember that?). Well, here are some other super cute ideas we love:
• Cartoon themed – remember Baby Shark? Doo do do do do… Well, why not ice a cake with an underwater theme with cute sharks cut out and stuck on?
• Number cake – this is going to be easy this year! A skinny rectangle for the number one, and iced in your child's favourite colours.
• Alphabet blocks – another super easy idea. Cut a sponge into squares, ice and then add letters to each block.
• Ombre cake – if you're like me and have trouble with icing, this is perfect for you. Simply split your icing into at least three different containers, add differing amounts of colouring to each one and you should end up with three different shades. Then start icing at the bottom of the cake with the darker icing, covering the top with the lightest shade.
• Animal cake – a simple round cake can be turned into a cute little animal. To make an owl, half of the top is covered with chocolate sprinkles as its face, with the second half being feathers which are represented by layered chocolate buttons. Add some legs and wings with chocolate finger biscuits. If all fails, lollies make great cake decorations! Or, you could add green icing onto of the cake, stick a plastic dinosaur on top and you've got a DIY dino cake!
• Ice cream cake – rather than made with ice cream, this is a normal sponge but uses ice cream cones as part of the decorations around the edge of the cake. Then there is icing swirls where the ice cream would go, and the remainder of the cake is iced in a different colour. Or, why not add a small iced muffin to the top of individual ice cream cones instead of one large cake?
An easy way to add some extra bling (or hide mistakes) is to add a cake tutu. We'd love to custom make your child's first birthday cake tutu in your choice of colours and size. Chances are, as it is reusable, you can use it again for many other birthdays and celebrations too! Head over and check out our cake tutus today.
Cake by Sugarcoated.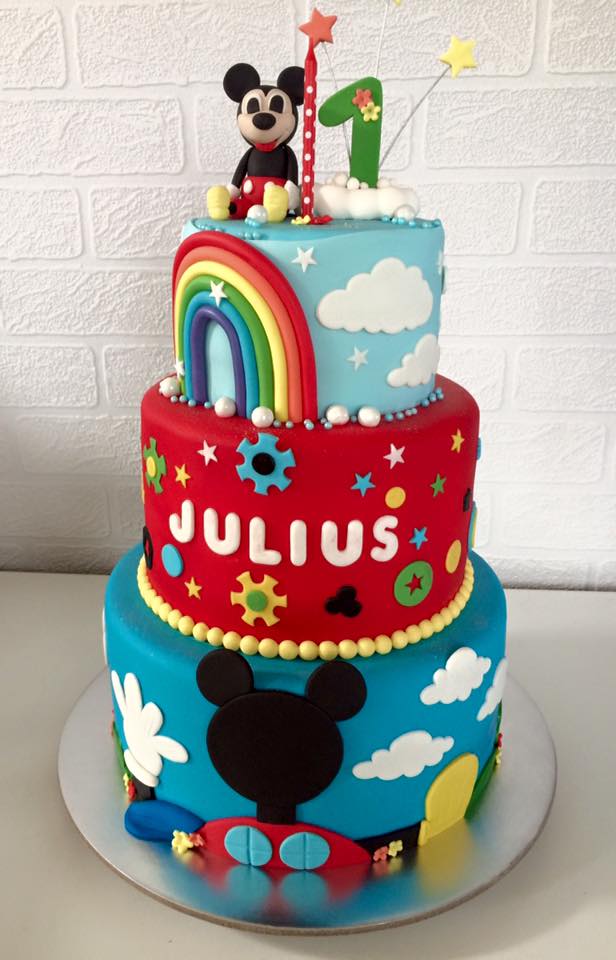 Posted: Wednesday 24 July 2019