Why We Love Hand Tied Tutus
Hand tied tutus are also known as no sew tutus. They are the most practical, adjustable and wearer friendly tutu ever made. We love no sew tutus because:
Extra puffiness – our tutus have layer upon layer of tulle, ensuring that all our tutus and tutu dresses stand out from the wearer's waist and legs.
Easy care – our tutus can withstand almost everything! Running, jumping and climbing are no problem when you wear a Mayhem Creations' tutu. But the fun just doesn't stop there. Easy care means also easy to keep clean too. A damp cloth can easily take care of dirt and because they are hand tied, storing is simple too. Just gently fold and place in a drawer, then when you are ready to wear it again, unfold and hang up to allow easy access to the tulle to puff it out again.
Sturdier – ever worn a skirt and had the seam rip or the hem come undone? Our tutus are fully tied, making them super strong and suitable for playing in every day.
Let's Talk About Tulle Baby
Let's talk about tulle and me. Let's talk about all the good tulle and the bad tulle that may be. Let's talk about tulle.
Okay, so we love tulle here too. Maybe sometimes a bit too much! But did you know that we use a special kind of tulle to create each of our tutus? All of our tutus are made with a soft to medium feel tulle. We've chosen this because it is soft enough to not feel scratchy, but firm enough to hold its shape. Occasionally we use a finer net tulle with sparkles as a top layer, for an extra bit of glamour.
There are six types of tulle, each with their own positives and negatives. They are:
Silk
Rayon
100% Nylon – or Bridal Illusion
French Tulle
Italian Silk
English Net – a mixture of Polyester and Nylon
We are lucky that our tulle comes in a large variety of colours, making choosing which ones to use to make our tutus with, one of the best parts of our job!
Which tutu colours or combinations are your favourites? Can you suggest any new ones for us to make? We'd love to hear your thoughts in the comments below!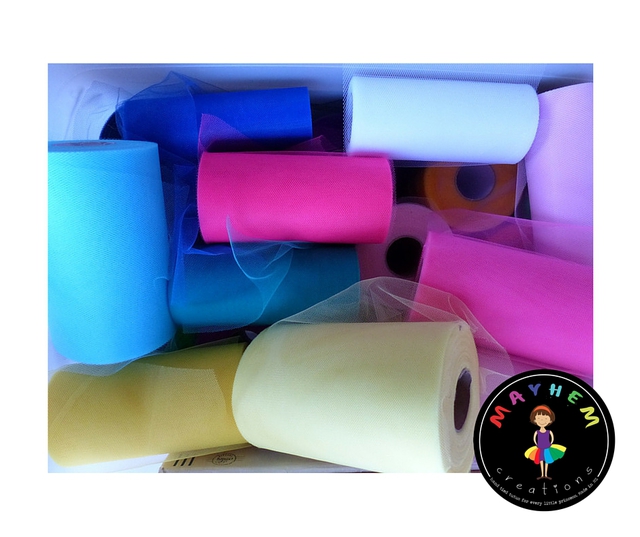 Posted: Monday 2 May 2016