5 Creative Ideas For Flower Girls To Carry
Twirl A Ribbon Wand
How about turning your flower girl into a magic princess by having her walk up the aisle twirling a ribbon wand? Glue ribbon around a piece of doweling, leaving several long pieces dangling free at one end for her to spin around.
Blow Bubbles
Everyone loves bubbles! The sparkle they make in the sunshine, the graceful way they float away with the breeze and the giggles from your special little attendant as she blows them, will charm all of your guests. You can create your own matching bottle of bubbles by choosing a beautifully shaped vase or jar and then painting it with your wedding theme colours or gluing a matching piece of fabric similar to the bride's dress onto it.
Carry A Spinning Windmill
If you are having your wedding ceremony outside, chances are there will be a tiny breeze at some point. Giving your flower girl a windmill to hold will help to keep her amused when it spins in the wind or even by blowing it herself. You can create a larger one for her to hold and smaller versions as decorations on your reception tables, or even as a party favour for your guests using some beautiful paper to match your theme. Here is a link on how to create a wedding windmill or pinwheel.
Hold A Love Note Box
Have your littlest bridal party member carry a beautiful lidded wooden box containing a love note or letter you have written to your groom. She can present it to him for him to read aloud or privately during the ceremony and he in turn can pop something special in it to help her remember this special time. The love note box can even be used to hold your wedding vowels after the ceremony, keeping them safe for you to treasure forever.
Use A Lantern
If you are planning an evening wedding ceremony, how about your flower girl carrying a lantern down the aisle in front of you to help light your way? With the light symbolising you, the light and love of your soon to be partner, a lantern can be the perfect way to bring some sparkle into your day. Rather than using a candle within your lantern, use an LED battery operated one. Your lantern can be decorated with flowers, ribbons or sparkles and can even be as simple as a large jam bottling jar with a handle.
The magic and charm a flower girl can bring to your wedding is priceless. With her tutu dress created by us to co-ordinate perfectly with your bridal party and your choice of accompanying accessories, she is sure to remember your special day just as much as you will. We'd love to have a chat with you about your ideas for your wedding and create the most delightful tutu dress and matching accessories for your wedding. So please contact us today to let us help make your wedding as wonderful as you dream it can be!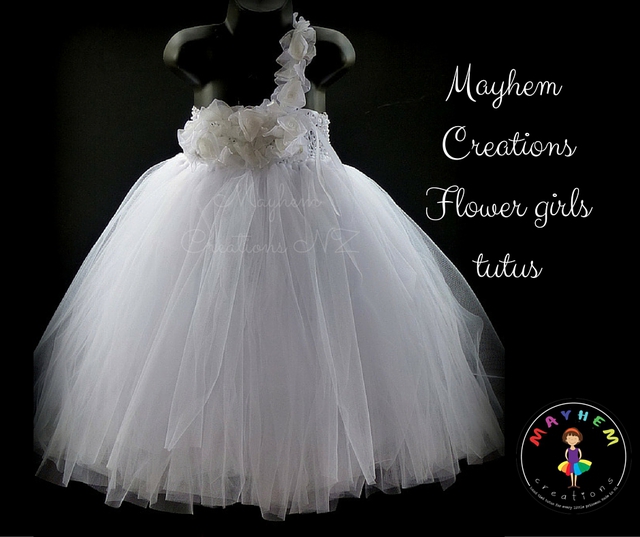 Posted: Sunday 31 January 2016