How do I know what size to select?
The stretchy bands that we use are very flexible in the sizing, so even if your child is smaller/larger than other kids, selecting a size is straight forward ie a size 1 will fit a newborn and up to a large 1 year old.
How long does it take to get a tutu made?
We will have tutus ready to send/collect within 4-5 WORKING DAYS of receiving your order. If it is going to take longer than this you will be notified when your order is received.
Can I choose my own colours?
Yes you can choose the length, colour, flower, ribbon or style or any combination of all of these
Does the price include delivery?
NO delivery is a flat fee NZ wide of $5 unlesss your rural then it is $10..
EXCEPT - table tutus which need to be collected from us in Karori, WELLINGTON
Where can I pick up from?
We are about 10minutes drive from CBD, in Karori Wellington and pick ups are welcome.
How can I pay because I don't have a credit card?
We have several secure payment options including Stripe (you do not need an account, just a credit card) internet banking via Poli Payments or layby (for details check out their details here LAYBUY details).
I want a colour you don't seem to have - can I get this special colour?
Yes we can source different colours of tulle - just send us an enquiry and we can find out for you.
If I buy more than one tutu is there a discount?
Yes! send us an enquiry for details
How do I measure my table to get a price for a table tutu?
You will need to know if your table will be against the wall (ie only three sides needing a tutu) or if your table will be in the middle of the room, therefore needing four sides. The table length and width needs to be measured. If you have a special size table just send us an enquiry or email and we can work out a price for you.
Do you do bulk discounts?
Yes! send us an enquiry with the details and we can work out a special price for you
My little girl is really tall - can I change the length of the tutu?
Yes you can - just send us your measurements when you place your order.
I need my tutu urgently - tomorrow - can I get my tutu made in time?
Depending on the current work load, sometimes it is possible to do an urgent order. Get in touch by text for urgent enquiries - Erin Ph 0212606818
What colours can I choose from?
Here is a selection of our base colours - but we have more so please contact us if you need something different or in another shade. We are happy to send samples if you prefer.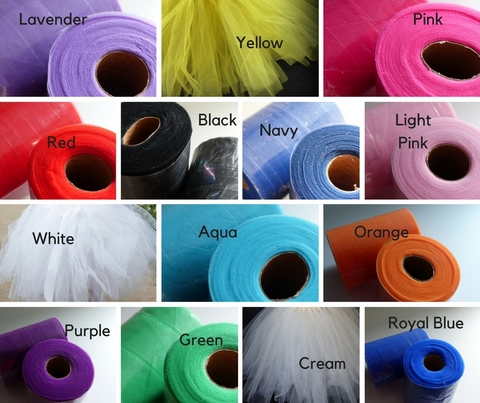 How do I tie the back of my tutu dress?